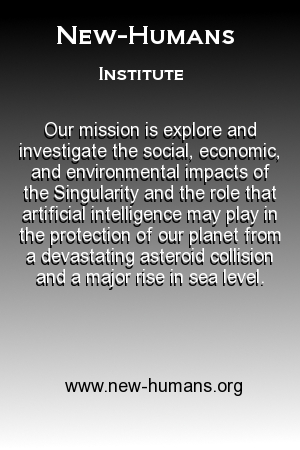 MISSION STATEMENT

The New-Humans Institute is dedicated to safeguarding Earth from a devastating asteroid impact by fostering the development of a research and educational institution dedicated to working with and supporting scientists, innovative thinkers, inventors, governments and agencies to plan, and organize—as well as coordinate, design and evaluate collision avoidance and large-scale damage control systems.


Objectives



provide insightful research and guidance from talented, creative, members of the New-Humans Institute to public, private, and governmental organizations

actively facilitate, fund and conduct research in earth-based and orbital monitoring and asteroid impact defense systems

assist governments and organizations develop and implement worst case energy. communications and food backup programs and systems

...assist the Planetropia Society to increase public awareness of the need to take action now

...and develop methods and programs by which all Earthlings can participate in saving the planet
If you are interested in helping to form this academic institution,
please contact Dr. Ron S. Nolan
nolan@new-humans.org
(831) 688-3158.